poolinfo:dashboard:personalize
Table of Contents
How to personalize your Dashboard?
After logging in to your personal SpaceFarmers Dashboard, navigate to the "Settings" tab. Here you will be able to change the following settings:
Your preferred Farm name (instead of John Doe)

Custom Harvester names

Difficulty

Voluntary Fee
Furthermore, you can specify if you want to be notified by the pool in the event you farm a block, a new payout has been sent, or when your farm size drops a significant amount.
Farm Name
The pool sets your farm name to "John Doe" as default. Want to stand out in the crowd? You can easily adjust your name to anything you like.
Harvester Names
We also allow you to set a custom name for each of your harvesters. These show up in your harvester tab.
Difficulty
Choose how you want to set your pool difficulty. The default is a highly optimized auto-adjusted difficulty level, that adjusts to fluctuations in the points delivered to the pool. Alternatively, you can choose to set a fixed difficulty. To calculate the optimal fixed difficulty, have a look at this tool. See here for more information on difficulty level.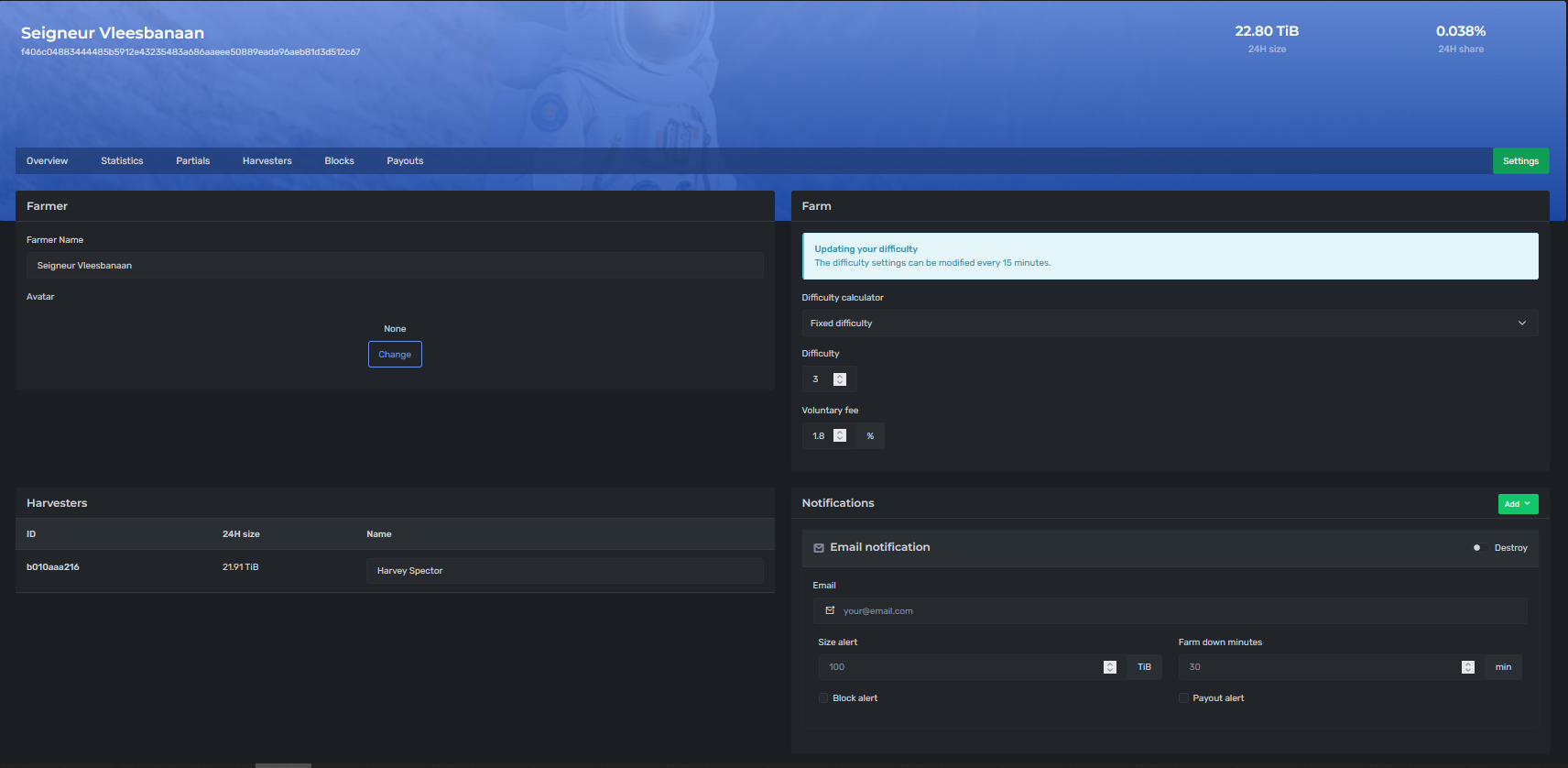 Voluntary fee
Your voluntary fee is highly appreciated. See our fee page for more information on our fee policy.
Notifications
If you leave your email address, we can notify you in the event you farmed a new block or received a payout.
Also, you can ask to be notified when your farm size drops a significant amount to ensure you will not experience significant downtime in the event of a HDD/SSD failing or when your ISP has problems, etc.
poolinfo/dashboard/personalize.txt · Last modified: 2023/04/10 07:22 by vleesbanaan
---